ThinkEmpire Payment System

---
︎︎︎ SaaS product design
︎︎︎ strategic design
︎︎︎ UX case study

Designed a payment infrastructure and checkout flow to facilitate the in-app purchase feature for the ThinkEmpire app from discovery to delivery

Role
︎︎︎ product designer
Time
︎︎︎ Feb. - Apr. 2020

Tool
︎︎︎ Adobe XD
Discipline
︎︎︎ digital product design
Collaborators
︎︎︎ worked with three engineers, one project manager, and two executives
︎︎︎ communicated user research findings with the team to ideate the feature and drive impact on the final decision.

Objective

To fulfill the monetization plan for the ThinkEmpire product, the team had to design and build out a payment system in the app. Since we had to have a monetization option up as soon as possible, we decided to move on with two phases of implementation for the payment system.
Deliverables

In this project, I was responsible for the UX/UI design, from defining the problem to deliver the hi-fi prototypes and developer handoffs.
Challenges

For this project, we needed to choose an external payment platform and design based on the documentation it offered. Besides prioritizing features included in the first stage of implementation due to confined time, we also needed to make sure it would be simple to extend the construction from phase one to phase two.
Outcome & Impact
The team built out the in-app purchase function with a reusable payment module for the most demanding feature in a month. On average, we ended up having a 20% growth rate of transactions in three months. We received a lot of positive feedback from both users and stakeholders.

**

Research Methods: stakeholder interview, user interview, requirements & constraints gathering, content audit, competitive analysis, design review, prototype testing & feedback

**

Deliverables:

user-flow charts, wireframes, hi-fi prototypes, developer handoffs
ThinkEmpire is a SaaS product providing comprehensive commercial real estate data for NYC. It offers an advanced search feature that allows users to search by property or people based on dozens of criteria. Besides, it presents a visual CRM for users to keep track of people and properties with which they have interacted.
When I joined ThinkEmpire, I started with redesigning one of the three main panels of the app and the advanced search feature. At the same time, I initiated the build for a design system to bring consistency of visuals and interactions to the user experience throughout the whole app. Then, I completed the design for features including list view redesign, login/signup system, onboarding tutorials, feed for social posts, maps, listings, user profile and settings, and downloading lists as CSV.
Design System
While the app had many useful features, we had not designed and implemented any system to monetize the service we provided. Therefore, we would like to build out this payment system as soon as possible and simultaneously create a thorough version with a pricing page and a billing tab within user settings.
---
At the early stage of this project, I had several meetings with stakeholders to identify the core problems and get a sense of their expectations for the project timeline.
They wanted to have a payment system implemented as soon as possible
Eventually, they planned to apply a subscription model to the app.
To understand what current features users would most likely to pay to use, I conducted a user survey and figured out that these two features were essential to them:
Downloading a list of properties or people as a CSV file
Looking into a property owner's contact info
How might we combine existing features with the payment system so it could be up in the app as soon as possible?
How might we incorporate the subscription model with the payment system into the current user flow?
Requirements & Constraints:
Limited Time
Given a tight time frame, the team decided to separate the two opportunities into two phases of design and implementation. First, we planned to start by adding an upgrade option to the most demanded feature, exporting CSV. Then, we would expand the whole payment system with a pricing page for subscription plans and a plan and billing info section on a user's settings page.


Technical Requirements

To set up our payment infrastructure, we had to use an external API, and thus, we had to design our user flow and interface based on the style guide and features listed on the API doc. We also had to gather the required info from users to accept a payment.

Since we decided to move on with two phases of implementation for the payment system within a limited time frame, our goals for each stage were:
Phase One

Provide in-app purchase for more CSV exports with property owner's contact info

Create a basic checkout flow that is extendable for phase two design
Phase Two

Based on the checkout flow from the first phase, integrate an upgrade option with different tier plans to unlock more features
Add a pricing page with details of all the subscription plans
Include a plan & billing section to a user's settings page
I followed these principles while I was designing the payment system:
Consistent - The payment system design should utilize the components and style guide from the ThinkEmpire design system. Therefore, users can have a consistent experience across the whole app.
Mobile-friendly - Although most of our users use our app on their desktop devices, the user interface should be accessible and user-friendly for different sizes of screens. I always design with a mobile-first mindset.
Expandable - While we would have two phases of implementation for the payment system, we had to make sure users would not have to spend time getting used to the new user flow after phase two development. We wanted to ensure that the user experience of upgrading is expandable, both design-wise and technical-wise.
Design Deliverables:
*All numbers on the UI Screens are placeholders.
Phase One
While designing, I had to make sure that we could reuse the payment/checkout module.
Add an in-app purchase flow to the current feature of downloading a property list as a spreadsheet
We lead users to purchase the proper amount of exports to download the rows they've assigned by selecting the most matched option for them, so users don't need to do the calculation.

Users can add a new card by entering the number, expiration date, and CVC according to the documentation from the external transaction platform we use. Users can add it to the purchase and make a payment only after our system validated the payment information (the button will turn from disabled to available). This "add a payment method" module is re-usable for future iterations.
If users have saved payment methods from previous transactions, they can choose to pay from one of those and change it to a default card. Users can also add a new card by selecting the "add a different card," and it'll open the "add a payment method" module.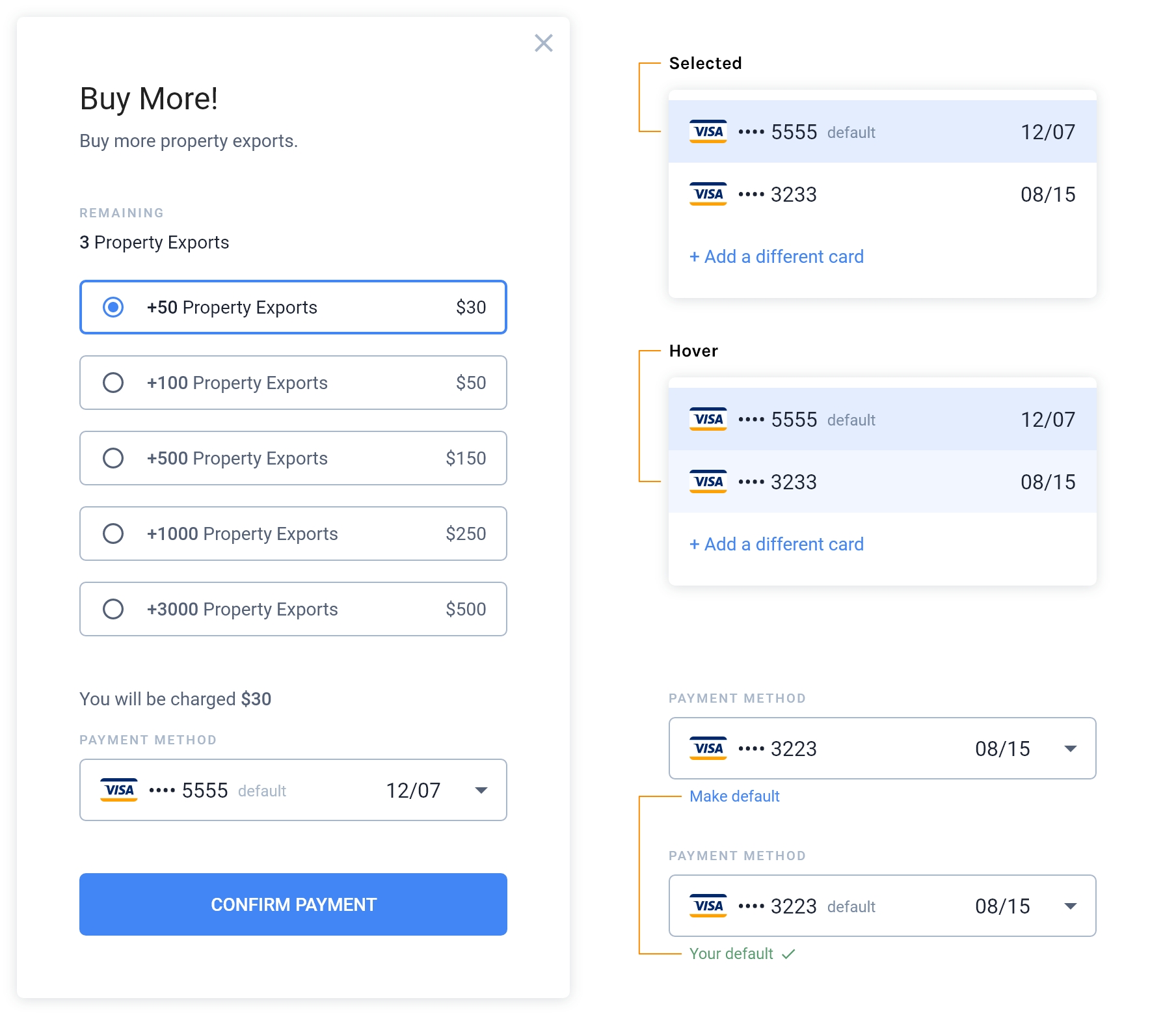 After users made a payment, users might forget the amount they want to download, so we will show the new remaining exports and display the amount of the rows that users were trying to download on the download button as a reminder.
A notification at the bottom-right of the screen showing users' remaining exports after downloading a spreadsheet
After users downloaded the CSV, we will do the calculation and show a snack bar at the bottom-right corner of the screen to notify users of their remaining exports.

Mobile-friendly modal design for different sizes of screens
To give users an experience similar to a mobile app with our web-based app, I created the small-screen design based on the mobile app design discipline.

Overview of the user flow
Based on the number of the items in the list and a user's remaining exports, there are three different flows for the in-app purchase experience.

Phase Two
We had to add the subscription packages to the existing flow utilizing the same payment/checkout module.
An upgrade modal leading users to a pricing page to switch to a different subscription plan
If users click on the locked features, we will prompt them with this upgrade modal, which will lead them to a pricing page after hitting the "upgrade" button.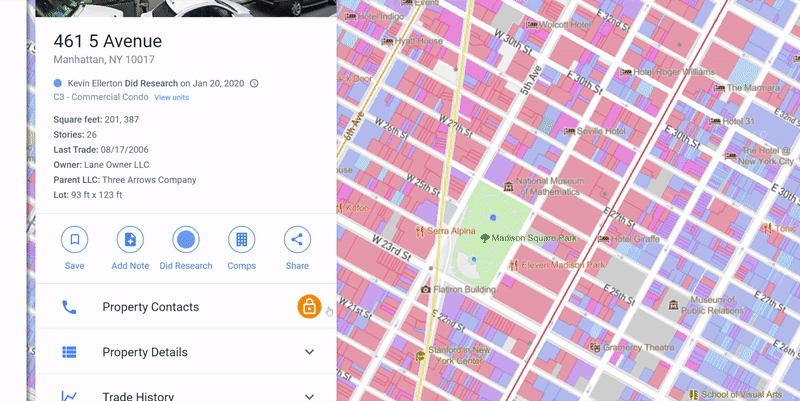 A pricing page showing four tiers with corresponding package details
The words of the button on more premium plans comparing to a user's current subscription will be "upgrade now" while the ones on more budget options will be "select plan." This way, we can encourage people to pay more for a higher tier while simultaneously, we don't give any negativity by using the word "downgrade."
Users can switch between monthly and yearly prices by clicking either the switch or the text labels. This way, it makes the clicking area larger for users to click.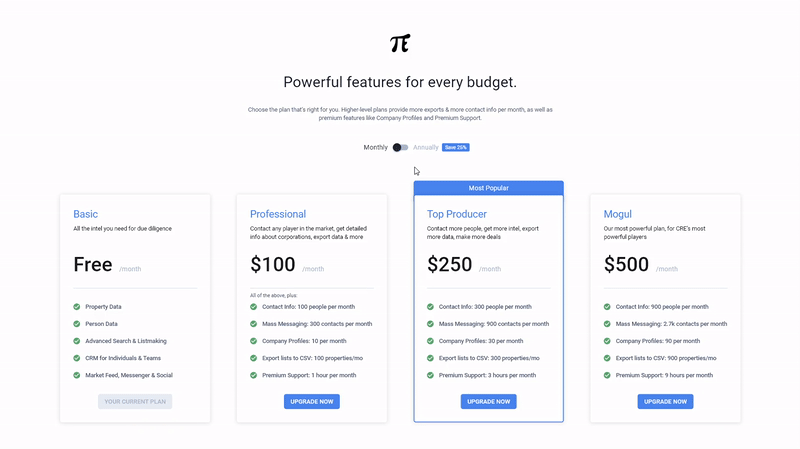 The page is responsive to different sizes of screens.

A plan payment modal combining "add a payment method" and "saved payment methods" modules from the previous phase

A "Plan & Billing" section on a user's settings page to show the current tier and all the invoices
This page is responsive to different sizes of screens. I made each row of the invoice table into a card so users can expand it to see more details of an invoice instead of scrolling the wide table left and right.
Users can add a new billing email address. After verifying the email address, users can use it as their default billing address.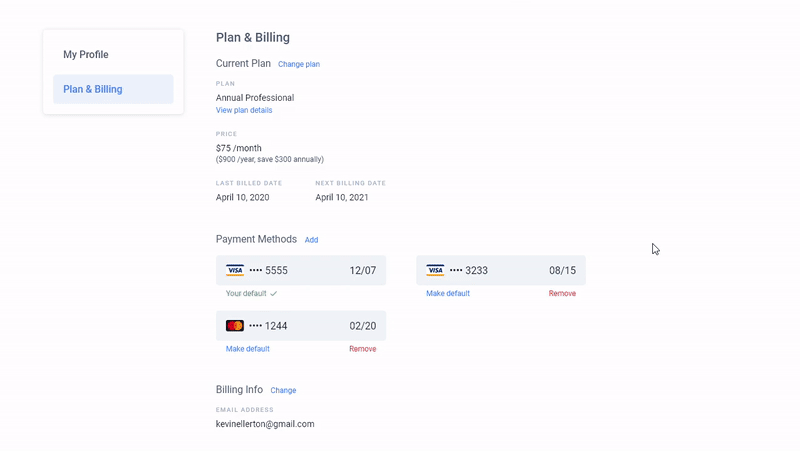 Outcome & Future Iterations:
We conducted usability testing to iterate on phase one design based on user feedback before implementing it. After launch, we had a 20% growth rate of transactions on average in three months. We started having revenue by successfully developing the in-app purchase system on the most demanding features.

Based on users' data from phase one and feedback for subscription plans, we would make adjustments for details of each tier. After implementing the subscription model, we would run analytics to draw out more customizable in-app purchase options within a subscription plan. We also planned to do more user interviews and usability testing to iterate and improve the user experience.
---
Use flow charts to save time and effort

Finding the balance among time, resources, constraints, and goals is hard. For this project, time is the most challenging part because we had to roll out the monetization feature as soon as possible. Therefore, we decided to execute design and implementation incrementally. We also needed to make sure that the core payment infrastructure is extendable for future use. The best way to fulfill all the requirements above was to draw out user flows for both plans and figure out overlaps. Thus, while designing, I could make sure the overlapping part from both flows could share the same module.


Communicate with engineers to create a complete user experience

To design the payment system based on documentation from an external platform, besides carefully reading it, I also had to double-check with engineers what information we needed from users to complete a transaction. Designing for all the situations, I also had to communicate with engineers to learn all possible states and errors.


Conduct user research to complement business decisions

Before I started the whole design process, I participated in a few stakeholder meetings to discuss the project timeline and give proposals. After the first meeting, we conducted user interviews to understand the users' favorite features and how much users would pay. Therefore, when we proposed to the stakeholders, we provided analysis based on our research to help them make better decisions.


Go beyond aesthetics with design strategies

Overall, having good communication helped the team to produce a good outcome. Furthermore, from this project, I also learned to use a design strategy to integrate business objectives with creative solutions that moved beyond aesthetics to build a successful product. It was always exciting for me to create a delightful user experience with a team.