— a portable device that enables users to record their quantitative and qualitative emotional states to practice mindfulness
MFADT Thesis Project in Parsons School of Design
Demoed at NYC Media Lab 2019


ROLE

Designer, Developer
TIME
Aug. 2018 - May 2019


DISCIPLINE
Product Design
UI/UX Design


TOOL

Physical Computing, Cinema 4D, 3D Printing, CNC, Laser Cutting
Illustrator, InDesign
Concept Statement


RE:FEEL
is a portable device using a tactile interface and voice recorder to record both quantitative and qualitative emotional data. It allows people who are eager to practice mindfulness and build emotional resilience to express, record and reflect upon their emotional states and events throughout the course of a day.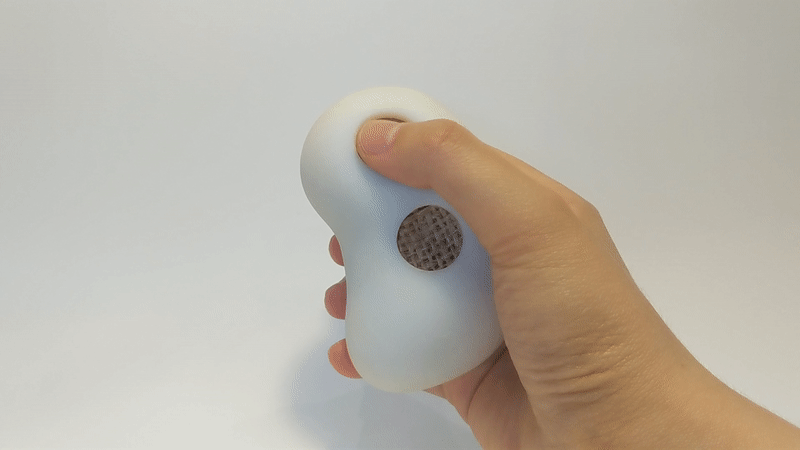 The device is modeled with two customizable textures individually portraying positive and negative emotions which provide immediate relief while at the same time recording every of a user's input. To include descriptive information for each case, he/she can start voice recording with a yellow light on by long-pressing one of the textured buttons. When the device received high-frequency inputs from the user, it will provoke a short vibration as an indicator that he/she might be confronting a strong emotion.
As the user continuously records emotions and reflects on emotional records, he/she becomes more self-conscious and self-aware of his/her emotions, accordingly maintaining well-being. Throughout the practice of exploring, gaining more insights, and coming up with the next steps from emotional data helps build long-term emotional resilience.
***
Here's an article I wrote in 2018 which is related to my thesis:
Quantified Self, Self-Tracking, and Self-Awareness
Device
Instruction Manual




Emotional Data (example of a day)


(16" X 80", printed on paper)
Anxious
Happy
Depressed
(voiceover: Lisa Ho)
Inside the Device
EMPATHIZE
Domain of Interest
Before pursuing my Master's degree at Parsons, I gained a solid background in psychology and worked as a research assistant in two psychology labs and an intern at a hospital. Through these experiences, I realized I wanted to help people maintain their mental health.
Identifying areas of interest
At the point of thesis domain researching, I just got through one of the darkest moments in my life. I felt so lucky that I could have survived from that period. Therefore, I started thinking about what I could do with technology to help people construct their emotional vitality.