MFADT 2017 Bootcamp Final Project
Demoed at Play Tech 2017 at Parsons School of Design


ROLE

Developer, Graphic Designer, UI/UX Designer

2017


DISCIPLINE

Application Design


TOOL

Processing, Illustrator, HTML, CSS
Anny's Sound Library
is a virtual music sequencer collecting sounds from the instruments she has learned. It also includes a recorded soundtrack which is the train announcement broadcasting its approach to the station in her hometown.
Visit the project website︎
Download︎
(Windows) and play
Check the code on the
Github︎
Sound Elements
train announcement
Taiwan Sound Map︎
created by Tsan-Cheng, Wu
This website showed up when I was researching for this project. I was surprised and touched by the train announcement when I found it because it was what I heard every time I was finally approaching home. Therefore, I decided to create a project to record my sound journey and included this broadcast.
music instruments
I've learned the piano since I was a child. As I grew up, I was always interested in learning different instruments. Below are the footsteps on my sound map:
Piano

Flute

Drum

Tin Whistle
Mood Board
Old barred windows in Taiwan

Old sign boards in Taiwan

Patterns


Columns in the train station
Visual Assets
buttons
backgrounds
Instruction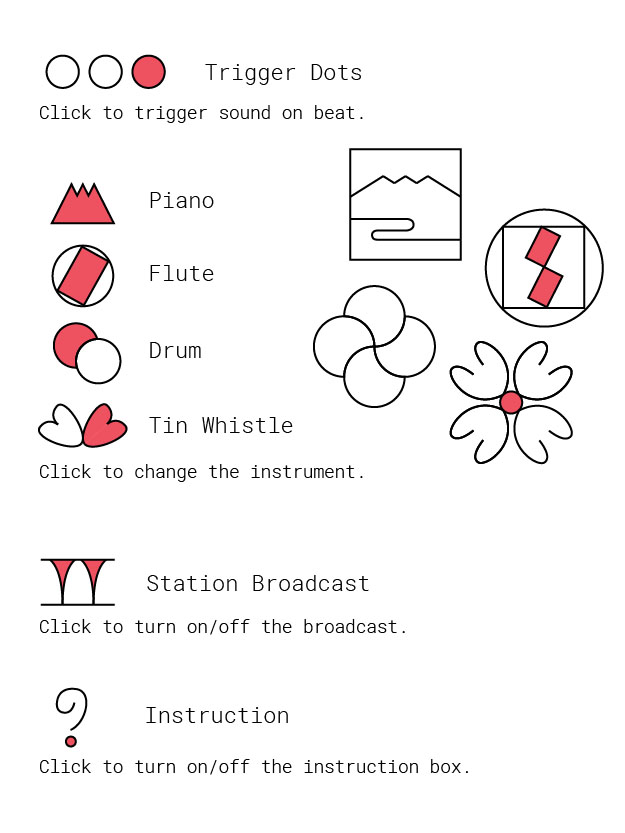 Interface
© 2019 Anny Chang.
All Rights Reserved.