Asia Contemporary Art Week 2018
— created print/digital marketing materials and the website as a web & graphic design intern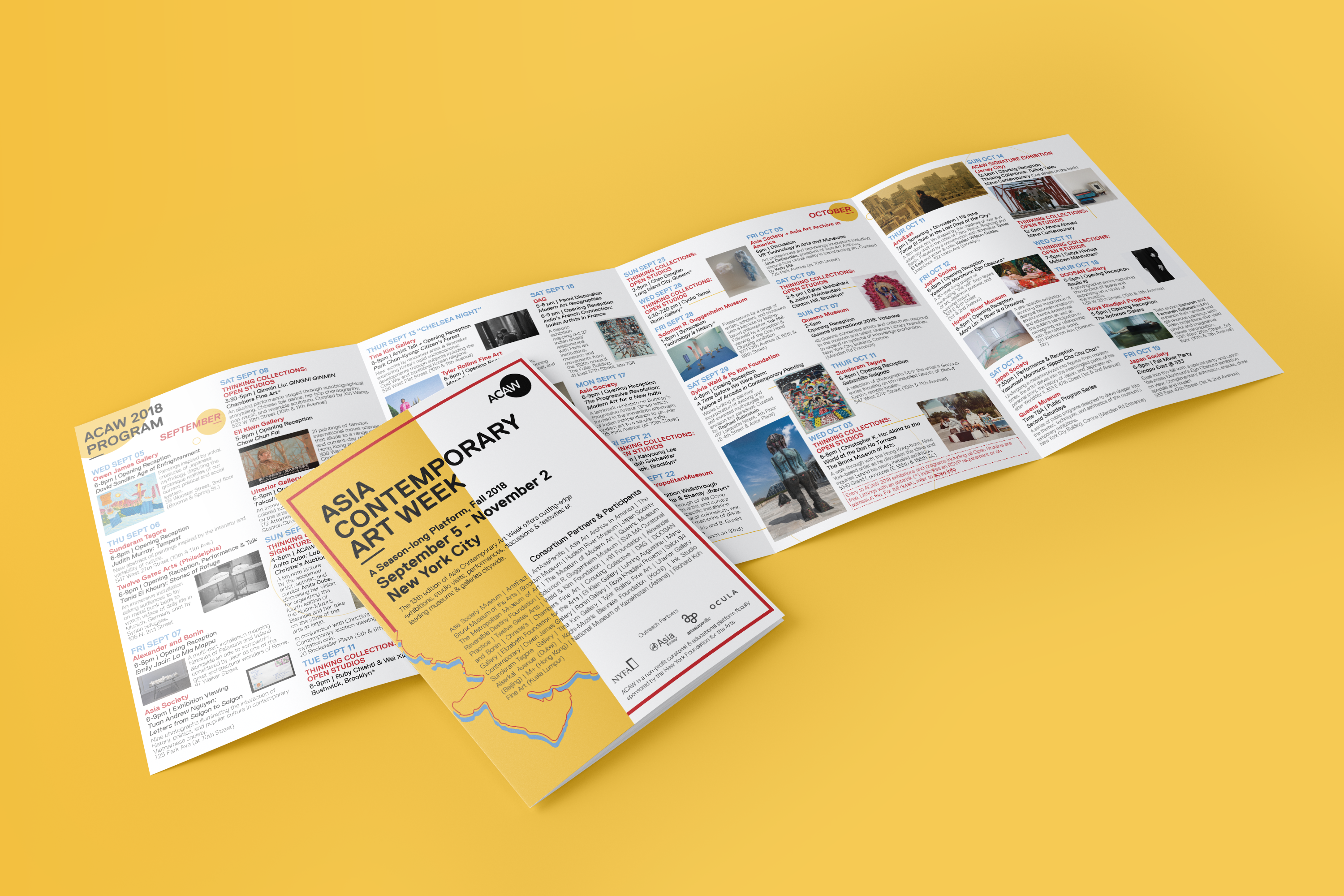 ROLE

Web & Graphic Design Intern
Produced promotional materials including the magazine ads, brochure, website, invitation cards and Eblast

Prototyped and developed website pages for ACAW 2018 event pages and schedule
TIME
Jun. - Dec. 2018


DISCIPLINE

Web Design
Graphic Design


TOOL

InDesign, Illustrator, Photoshop, XD,
HTML, CSS, JavaScript
Brochure (4-Panel Roll-fold)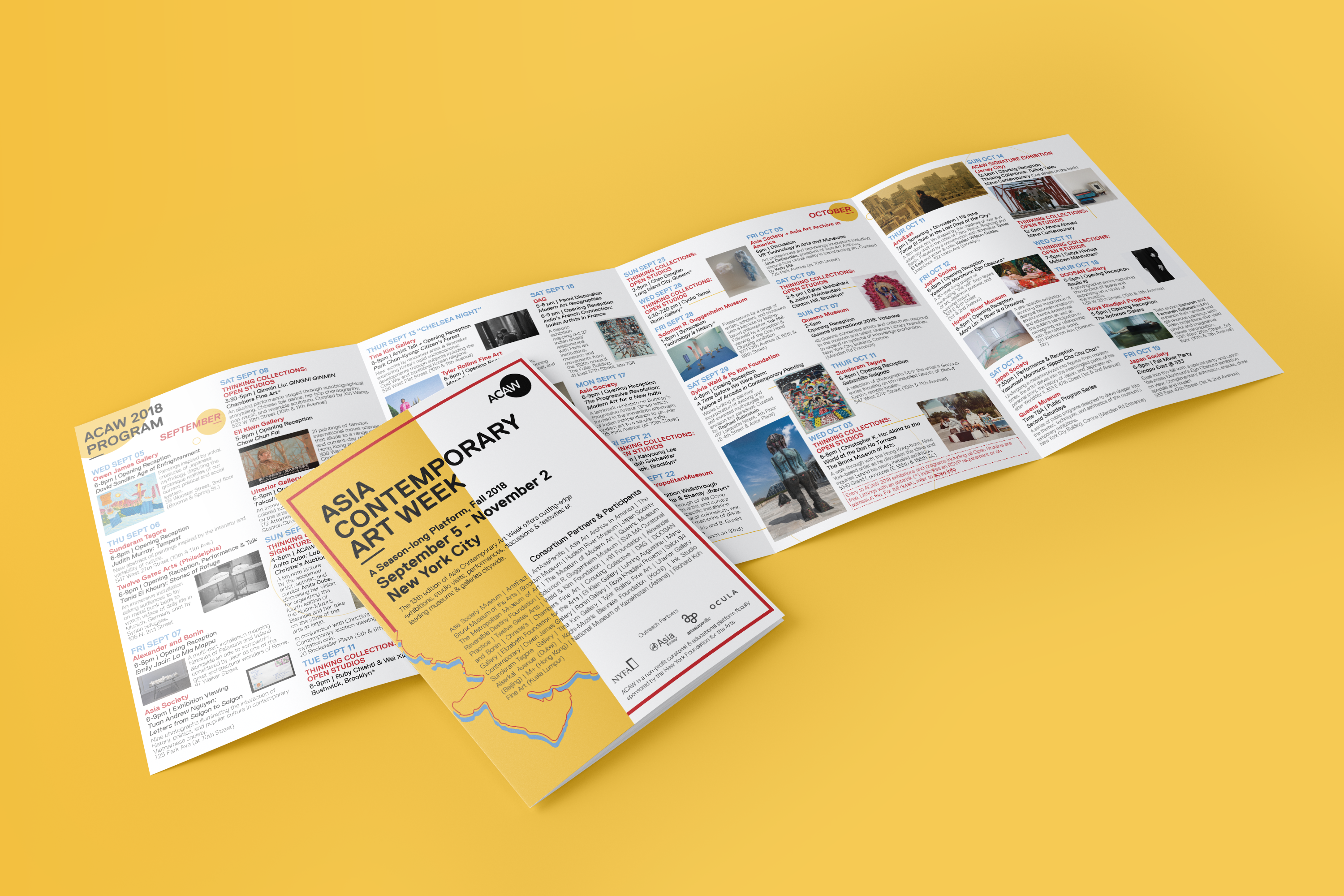 Color
Typeface for Print Works
Website
Before starting building the website pages for ACAW 2018, I designed visuals, created page mockups, and prototyped the interactions in Adobe XD. Then, I developed all the visuals and interactions with HTML, CSS, and JavaScript under the framework of WordPress after the program director confirmed the design.
(Design Process)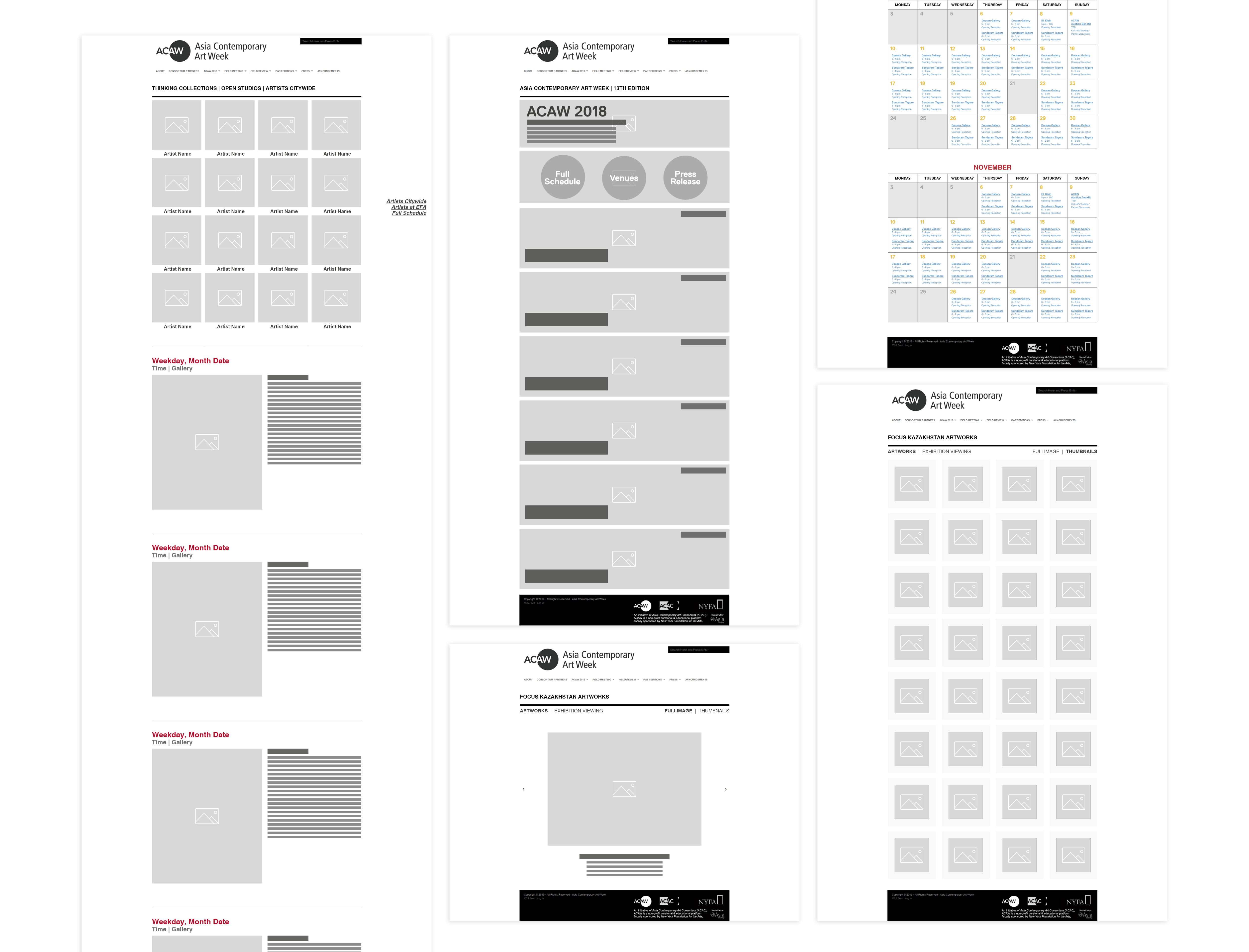 (featured pages)


PROGRAM HOME PAGE
I added a hover effect to each button/banner hyperlinked to make a more intuitive interaction comparing with previous editions of ACAW.
2018
2017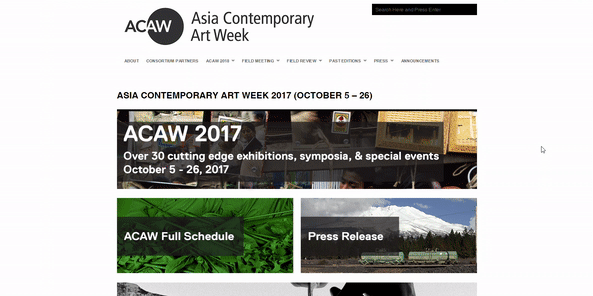 FULL SCHEDULE
As the program covered three months from September to November, I designed fixed side navigation for users to jump to the month they wanted to explore.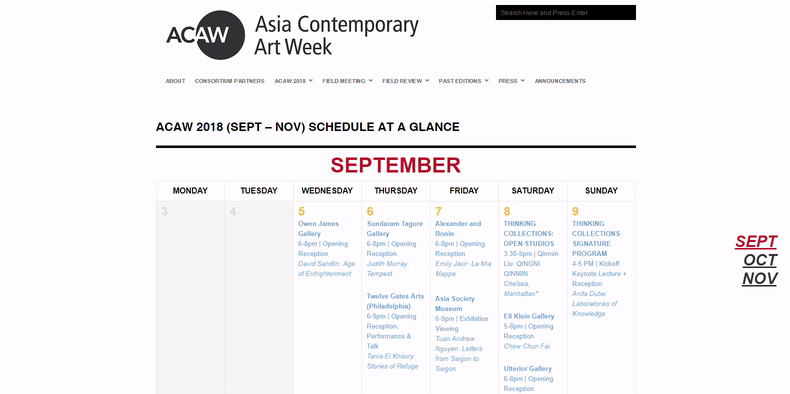 Instead of going to a different page for event detail, users could open a popup window for each event on the same page of the full schedule. Therefore, they could dive into the agenda without switching between different pages.
2018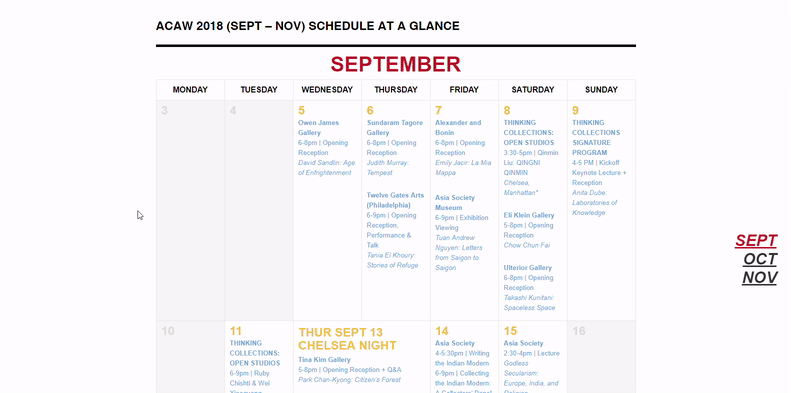 2017
Besides the link to Google Map for each event venue, I also added an "Add to Calendar" button for users to add the event to their Google Calendar.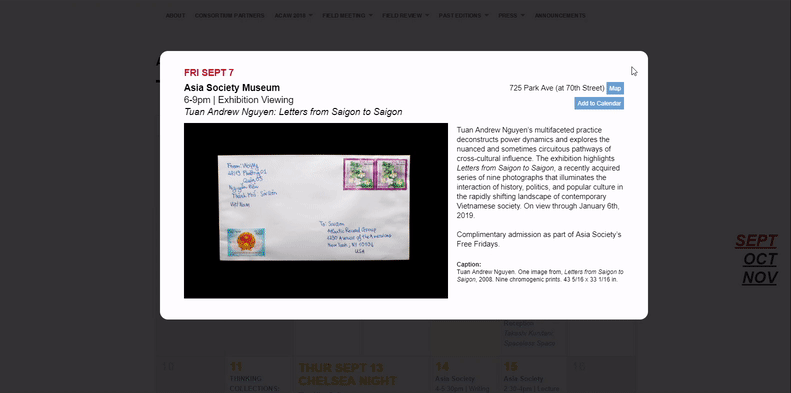 (featured interactions)



Multiple artists' profiles on the same page with side navigation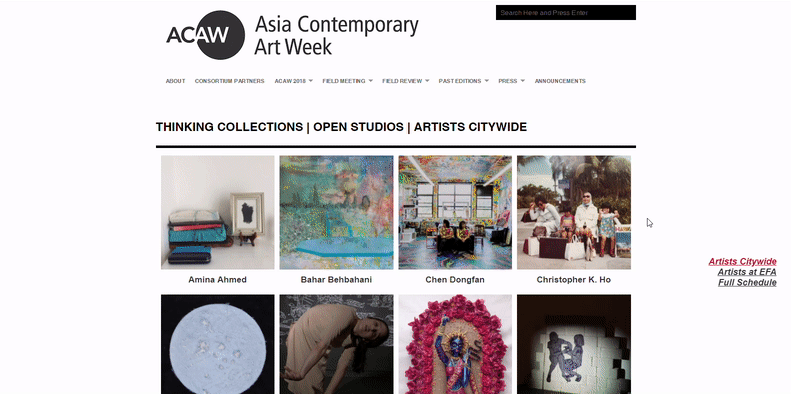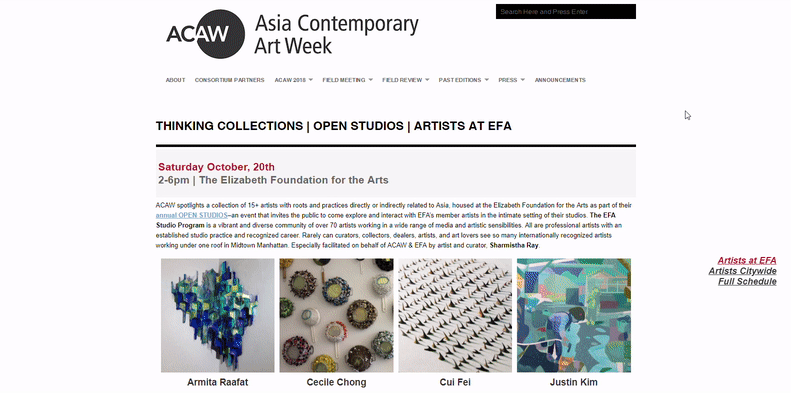 A sticky/fixed header for the time and place of an event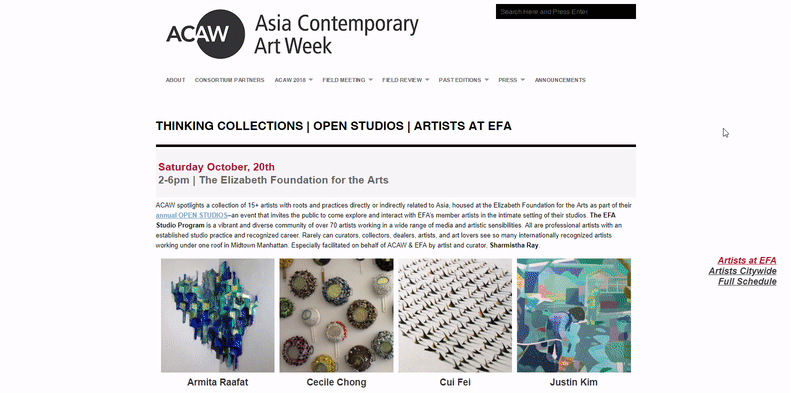 Animated buttons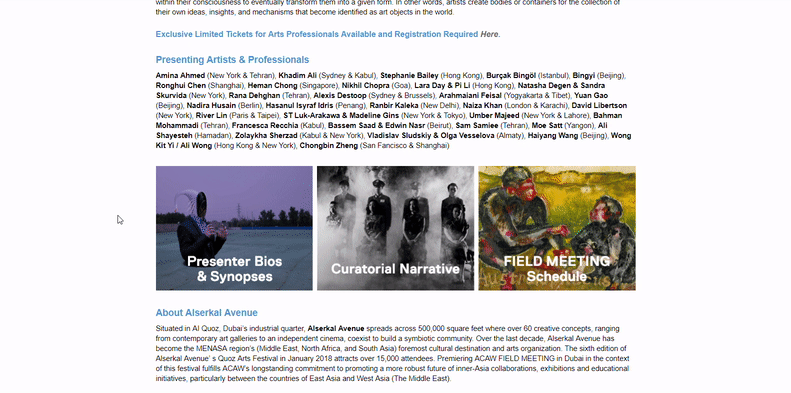 Image gallery including two sets of imagery with full-image/thumbnail mode switching
An autoplay/controllable image gallery contained in a presenter's profile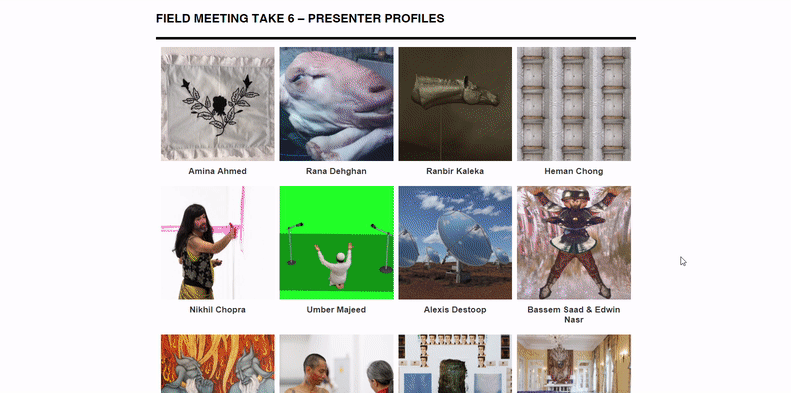 Eblast

I developed different Eblast templates for announcement and weekly brief under the framework of Mailchimp. To fulfill the visual customization, I not only used the visual editor but also edited HTML and CSS.
Learnings
ACAW 2018 was a season-long platform including over thirty events. Therefore, it was a challenge for me to design the materials under a tight schedule. For the layout of the brochure, besides dealing with a massive amount of information, I also learned how to arrange the display of versatile image thumbnails. Moreover, because of the great pieces of information, I had to focus more on the hierarchy of font sizes, colors, and styles.

In my previous projects, I tended to consider the copy and decorative visual elements together, but in this case, I had to cope with the necessary information like date, time, place and a short description of the events and then could start being creative and adding interesting visual components without overpowering the essential information.

I was the only web and graphic designer in the team, so I learned how to produce website pages and simultaneously take care of the process of other print works. I also learned how to communicate with a curator and copywriter for the schedule and work distribution like how they could help me so I could accelerate the process of the design. Moreover, to let them be able to envision the final visual and interaction, I utilized prototyping tools to make mockups.

From this experience working at ACAW, I learned how to create visuals extending the existing brand identity. Furthermore, I went through and acquired a lot from every step of design inclusive of concept brainstorming, making wireframes, prototyping the interactive mockups, and developing the website pages. Last but not least, in addition to design and programming skills, I gained the ability to communicate in a collaborative work situation and multi-task in a fast-paced environment.